BELA is an Alberta Education Approved Early Childhood Site, making it possible for us to provide services and programming for children with early intervention and special needs as well as for children who are learning to speak English as a second language.
Students may qualify for funding to access these services. If you have concerns about your child that are developmental in nature or you have been referred to us regarding PUF Funding, please contact us to discuss your options.
BELA is also licensed through the Southeastern Alberta Children Services Authority.
Programming for 3 and 4 year olds
At BELA, a child's individual developmental stage is combined with realistic expectations, balancing support and challenge, to produce learning. Foundational to our programming, through play, we provide developmentally appropriate learning opportunities designed to support and encourage children as they discover, create, and learn. We believe that the Early Childhood Professional's role is to support families in maximizing the potential of each child. Therefore, the emergent character development of each child is supported, as character education is embedded in our programming, with positive character traits modeled and explicitly taught, in order to support children in becoming positive, contributing members or our community. Every aspect of our program is supported by early childhood education research and best practices. We strive to provide our students with the best possible support to ensure their success as life long learners.
Schedule of Available classes
Please take note of class start and end times to ensure they work for your family's schedule.
If your child requires a schedule that is different from the options above, please contact Carmen Powell at BELA to discuss other available options. We will do our best to meet your request if we have the availability to do so.
BELA will only run full classes and reserves the right to make changes to the schedule if needed. The minimum a student may attend BELA is 2 days/wk. Your child is welcome to attend more than 3 days a week and may attend up to 5 half days per week. BELA will consider requests for personalized programming and our Director of Operations must approve these requests. Decisions are based on the needs of the student and family.
3 Year olds may register for one of the following :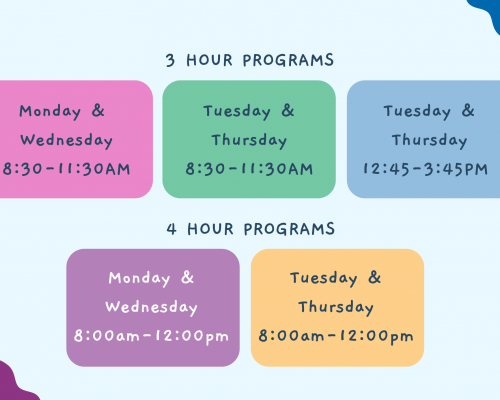 4 year olds may register for one of the following :